Cadi Ayyad University: A potentially binary Hazardous Asteroid discovered
at the Observatory of Oukaimeden in Morocco.
This is a major discovery that has just achieved by the MOSS<![if !supportFootnotes]>[1]<![endif]> Telescope located at Oukaimeden Observatory and operated by Cadi Ayyad University.
2017 YE5<![if !supportFootnotes]>[2]<![endif]>, the name assigned by the Minor Planet Center to this object captured by MOSS in December 2017, is a PHA type (Potentially Hazardous Asteroids).
Ç We observed with Goldstone and Arecibo radars an object discovered by your observatory –2017 YE5. Our radar images suggest that 2017 YE5 is an equal mass binary, each component ~900 m in diameter, and they appear to orbit each other with a period of 20-24 h È, said Marina Brozovic how work on radar observations of NEAs at NASAÕs
She add: Ç This is only the 4th equal mass binary in the NEA population that we know of, and only (190166) 2005 UP5 is a larger system than 2017 YE5. 2017 YE5 is the only one with an orbit that resembles a Jupiter family comet, and based on radar images, we believe it is an optically dark object. This could be an extinct comet. Two ~900 m components are for sure much larger than what H=19.2 would suggest assuming an average NEA optical albedo. 2017 YE5 is also a PHA È
Astronomer Claudine Rinner was at the helm of the MOSS Telescope during this extraordinary discovery.
See Animation here:
http://marrakech-astro.uca.ma/2017YE5/2017ye5.mov
https://echo.jpl.nasa.gov/asteroids/2010NY65_2018/2017YE5.mp4
Data frome JPL for 2017 YE5 :
https://ssd.jpl.nasa.gov/sbdb.cgi?sstr=2017%20YE5&orb=1
<![if !vml]>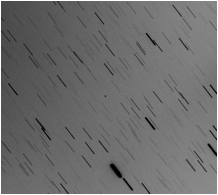 <![endif]>
Figure 1: Image de 2017 YE5 prise par le TŽlescope MOSS le 0/06/2018 a 2hTU
(CrŽdit : Claudine Rinner)